Northwestern University's Cross School Initiative in Computational Science fosters new research initiatives in the interface between computing science and engineering.

New courses have been created, ranging from E-commerce and optimal control, to grid computing. [more]

The Cross School Initiative is promoting the development of focus groups and computational infrastructure.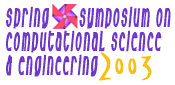 Announcing the
Northwestern-Argonne Spring Symposium on Computational Science and Engineering
Thursday, April 3rd, 2003

Click here for details.